Flow Image
Flow Image Bridal Programme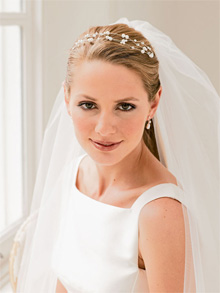 duration: 2.5 hours, price: £170
includes a wallet with 42 swatches, bridal workbook and a make up prescription
Every wedding is different but one thing they all have in common is great wedding photographs! You will be looking at those photos for decades to come; you should make sure you are looking fabulous!
Bridal consultation will show you which white is right for you as well as which dress will be perfect for your body shape.
You will also be recommended hairstyle to suit your face shape as well as what type of headdress and jewellery to choose to complement your look.
Services
Bridal make-up
duration: 1 hour
price: £50
includes a beauty workbook
group consultations available; prices upon application
You want to look like a million dollars on your wedding day so getting it right needs some expert skills and practise. A make up consultation will help you to create a natural and radiant look that is camera ready, yet feels weightless, comfortable and lasts all day.